14 Sep 2013
Choosing the Right Dishwasher for You
---
There are many factors to consider when picking out the right best dishwasher that is going to suit you. In a nut shell this article will describe various factors that you should be looking out for specifically when purchasing a dishwasher. However the following factors can be useful knowing about for other appliances. Here are the factors you will find about in this article for choosing the best dishwasher:
Dishwasher Load Capacity – Amount of items that the dishwasher can wash per cycle
Energy Ratings – The meaning and value of energy ratings (EU Energy Ratings).
Noise Levels – A quick description of noise levels and what to look for.
Dishwasher Type – picking the right type of dishwasher.
Dishwasher Flexibility – Adjustable baskets and holders.
Dishwasher Load Capacity
Dishwasher load capacity, this can be a big factor when choosing any dishwasher model as you need to know the amount of dishes and utensils you will require to wash. You can really give an estimated guess to the load capacity by amount of items through the amount of people who will be using the dishwasher or the number of people who of which are in your household. Of course if you regular do the washing up then you will have a good idea of the quantity you wash.
Finding out about the load capacity of any dishwasher is relatively easy, whether you are ordering online or physically viewing the dishwasher in retail store. The load capacity is a main point and should always be stated on the information of the dishwasher whether it's in the manual or where ever. If you don't happen to see the load capacity ask any staff or contact the seller, as you should always be able to get this information.
Energy Ratings
One big area of all dishwashers and in fact for most appliances now is the amount of energy that they produce and how well they can carry out the tasks using minimal energy. Dishwashers all come with an energy rating which helps you reduce costs in the long run. Energy ratings can be anything from A+++ to D which is the worst; these ratings described are EU energy ratings. In different areas dishwashers and appliances can be given different energy ratings.
When you are selecting or reviewing a dishwasher by energy rating keep in mind that the better energy rating they produce is more likely to increase the initial value of the dishwasher. As a tip be sure to get a minimum value of A or A+ as these energy ratings are becoming common in good dishwashers and more modern dishwashers. See the image below.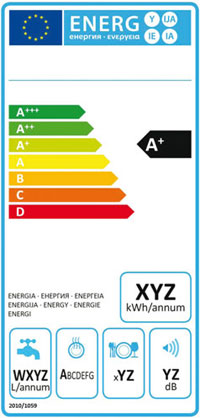 If you are curious about the running cost of your dishwasher there is a good dishwasher energy calculator that can help you see what your estimated costs will be. You can find it here: Dishwasher Energy Calculator.
Noise Levels – Finding the Quietest Dishwasher
Noise of the dishwasher is in fact a big concern for many mainly from previous experience of dishwasher models. That's why some people may be on the hunt for the quietest dishwasher, although today with the increase in technology and knowledge the modern day dishwashers are getting better and better in controlling the sound output. This is one reason that newer models of dishwashers should be the first port of call.
In your search for the quietest dishwasher the target of your search will arise in decibel output of the dishwasher. However there is one major point to make you aware of when using the measurement of decibels (dB). When you are using dB it is not like a measurement of say Centimeters where 20 cm is double the value of 10cm as dB is not a linear measurement which means 20dB is not double 10dB in the value output of the sound. Now yes this is very confusing and misleading…this is why when you are looking into sound levels there are can be various perceptions from different individuals which may say the dishwasher is noisy or quiet. Not only is there various perceptions of the noise but even the room where the dishwasher is installed can enhance or decrease the sound levels! But we won't go into this further at the current point, in the near future we will create an article for the sound levels of a dishwasher that will go into further detail.
To give you a tip, if you currently have a dishwasher in your home and your are going to be replacing that dishwasher with another in the same place then check out its dB rating as a measurement of its noise levels to "you". With knowing its dB you can get an indication that if you get a dishwasher with lower dB it should be quieter…but as described this may not be 100% accurate. Also aim for a dishwasher that has a decibel rating of 45-49 or lower, 40 dB ratings are known to be quiet where 50dB+ are known to be noisy.
Selecting the Type of Dishwasher
Of course you will have already have some sort of idea of what type of dishwasher you will want to get, whether its portable, freestanding or built in or perhaps a countertop dishwasher. Selecting the type of dishwasher can also bring in multiple factors, for instance, when purchasing a portable dishwasher it's not going to manage to wash as much items as say a full size dishwasher however it is going to let you move it around easy. Space is large part of selecting the type of dishwasher as you want something that is going to fit into your kitchen, maybe you have a space already set for the dishwasher and you're going to want it to fit in place. You can find out more about dishwasher types and their positives and negatives from our other article, you can see it here: Dishwasher Types.
Dishwasher Flexibility
When it comes to the flexibility of the dishwasher this is relating to the baskets and placement holders for the dishes and utensils. Having good flexibility allows you more ease of placing/fitting dishes inside getting the most out of your dishwasher. Some examples would be having removable baskets and cup holders to allow larger items into the dishwasher, movable baskets in where maybe the top basket will move upwards so that the bottom basket can fit in larger items. Overall it's quite simply the ability to increase space when it's needed but also to place back any dish or utensil holder when you need to wash them.
Summary
Described above are some of the most common and our recommended factors you should look into before buying a dishwasher. Of course there are certain criteria for everyone and certain features that you will possibly require more for instance child safety although many dishwasher manufacturers will already look into this. Overall it's about getting the right balance that is going to suit you, if sound is a real issue then look at sound levels as the starting factor and work from there…it's all about getting the right balance.